The Department of Industrial and Systems Engineering at Texas A&M University installed a new driving simulator to use in research pertaining to driving, autonomous vehicles and other vehicle technologies.
Here are the top three things you need to know about the simulator, including what types of research is currently being done and future areas of research that will help increase safety on the road, including a future with self-driving vehicles.
1. A one-of-a-kind feature
The state-of-the-art simulator features a 270-degree field of vision, which provides a realistic driving experience for the user. Field of vision is the area you can see on each side, your peripheral vision, while you look straight ahead. This is a very rare field of vision for a simulator and there are only a few simulators with this capability in the United States.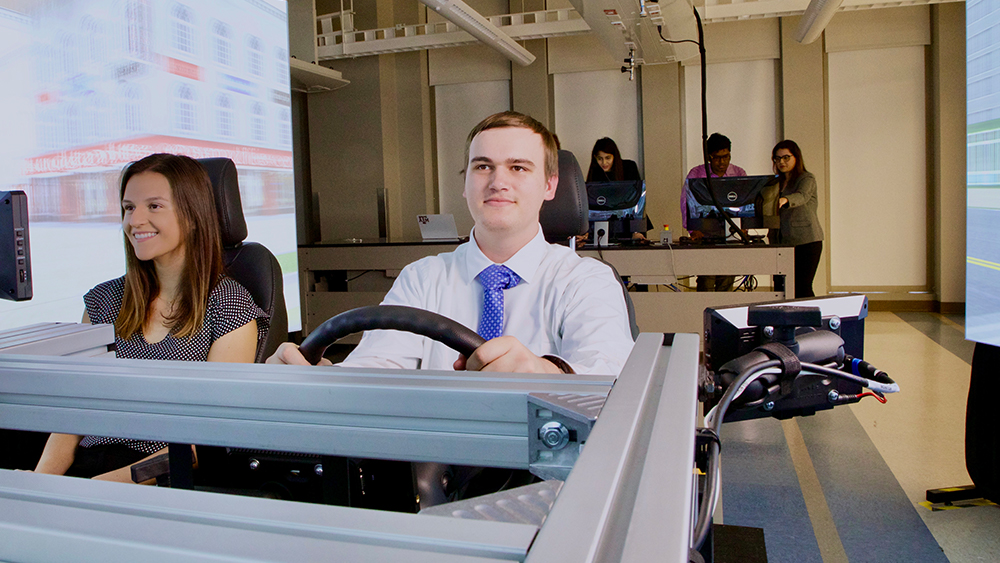 The driving simulator can also be run autonomously, allowing researchers to conduct experiments about self-driving vehicles and how users react to these vehicles. As self-driving vehicles become more prevalent, this simulator will be helpful to researchers working to understand how self-driving vehicles will impact safety and traffic.
2. Current research projects
The Human Factors and Machine Learning Laboratory is using the simulator for research on autonomous vehicles and cyclist safety, in partnership with researchers in the Department of Landscape Architecture and Department of Psychological and Brain Sciences. This research looks at how bias may play a role in cyclist interactions with vehicles. Realistic driving scenarios were created for the simulator that allowed the researchers to measure the impact of bias on driver and cyclist interactions. This work was funded by the T3 grants awarded through the Office of the President.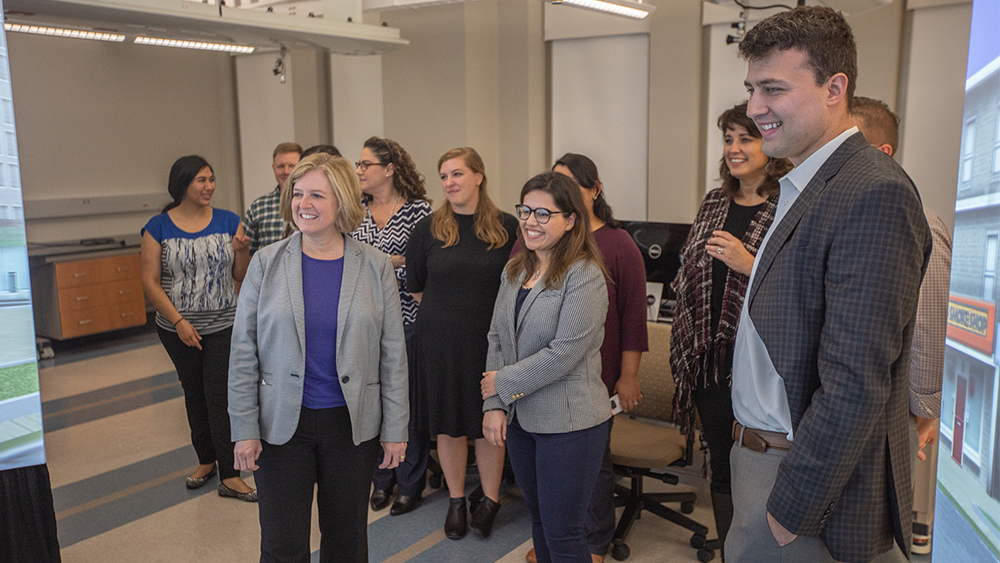 The Human-System Interaction Laboratory uses the simulator for research on emergency responders, specifically law enforcement. The simulator will be used to determine the effects of in-vehicle technologies, such as laptop computers,  driver fatigue and vehicle autonomy on the emergency responder's performance. These results will then be used to develop in-vehicle systems that adapt to emergency responders and training programs that will improve emergency responder safety on the job. This work is funded by the North Carolina Occupational Safety and Health Education and Research Center.
3. Interdisciplinary teamwork
Many different types of research can be done on the driving simulator including research on drowsy drivers, autonomous vehicles, on-road sign evaluation, driving education, driver behavior and much more.
The driving simulator is available to researchers interested in these areas of research or others.